@LordStafford
- I didn't want the other thread to go too off topic so I thought I'd address your points of it being "pointless" here.
When Harry reveals himself to Voldemort, the second half of the battle of Hogwarts begins. Voldemort's rage leads him to throw Neville like he's nothing. Harry leads him away from the battle for one important reason: to protect the others. Voldemort is a danger to others, as proven with Neville, but not to Harry. Harry has already won. Harry knows he has won. All he needs to do now is to make sure the others stay safe, so to do that, he leads Voldemort away from the main battle.
The first look we get is Harry by himself in a debris filled hallway with plenty of dust.
Here are two screencaps given by
@Aaron
and
@Bane
in this thread:
http://harrypotterforum.com/discussion/10285/deathly-hallows-part-2-cinematography-one-post-one-frame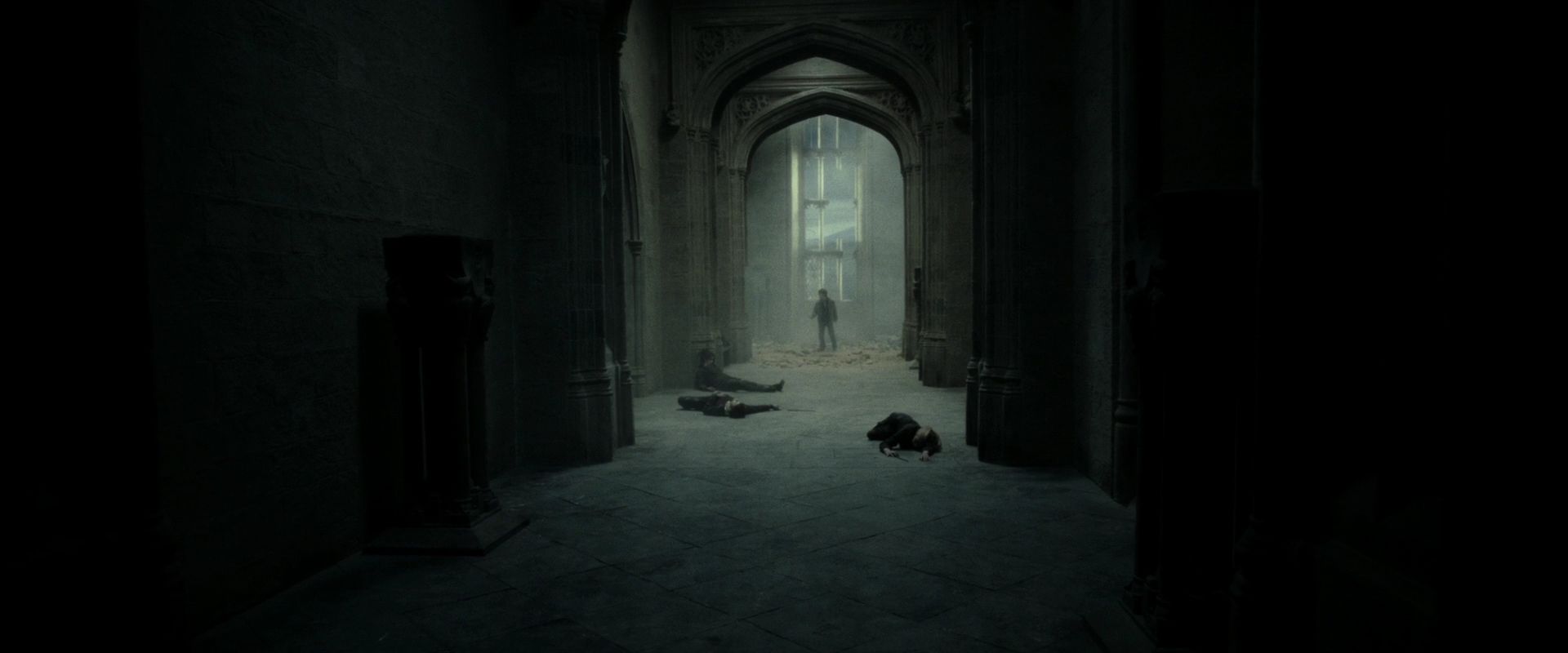 This scene shows Harry alone. He's scattered. In his final battle, the most important moment in his life, he himself is lost in the maze that is Hogwarts. The wide, centered shot shows him completely alone. It shows the bodies of dead students. Even though he has won, perhaps he hasn't figured it out yet. What if he's wrong? His goal was to get Voldemort away, and he has. Now he needs to duel him, something he's gotten away by twin cores in GOF and by Dumbledore in OOTP. Now he has to stand and fight, and he's scared. It all comes down to this, a fight for his life.
Finally, he finds Voldemort and they begin dueling. He fires one spell as a surprise, but then after that, he's completely on the defensive. Harry knows that Voldemort is a better and more experienced wizard. Harry isn't going to win this duel by attacking, but by buying himself time to kill Nagini. He plays it smart. Instead of attacking Voldemort, he causes a diversion by letting the rubble fall between them. Voldemort just manages to stop him from killing Nagini, and so comes the next portion of the battle.
Voldemort gets Harry and starts beating him like a muggle. That's what it has come to for the supposed "greatest wizard" of all time. He can't beat Harry. 17 years and he can't defeat one boy. He's lost it. He's had enough. He turns into the one thing that he despises above everything else: muggles. This Voldemort destroys any Voldemort in any of the other films. This one has the most personality, is the most deceiving, has the most character, the biggest moodswings, the biggest rage, fear, etcetc. Ralph hits it out of the park with this Voldemort, and this scene here really seals the deal. He's dropped himself from great wizard to a muggle. He's physically beating Harry. He doesn't know what else to do, he just lets rage consume him. It's brilliantly shot and put together. Harry just gets back and taunts him, which leads to the cliff jump.
There are two main purposes for this scene. One is to buy time for Nagini to be killed, and the other more important one, is to mock Voldemort. Harry essentially tells him: "I know something you don't." That idea is appalling to Voldemort, there's no possible way the boy could know something he doesn't. For the tiniest space of time, perhaps right before another attempt to kill him, Harry sends them both over.
The entire apparation sequence is a cinematic pleasure. Great music, great effects, just a great scene all around. The entire reasoning behind it again, the mocking of Voldemort. Harry knows Voldemort will apparate to safety. Harry knows Voldemort is a giant coward. He uses all of this to his advantage and shows it. Harry was willing to die in the forest and he's willing to die now. Voldemort isn't. Voldemort can't possibly accept the fact that falling would kill them both and that he still had a horcrux in Nagini, even in danger. The thought would never cross his mind. He had to stay alive. This was Harry's advantage.
Looking at this shot, why is someone laughing? It's obviously Voldemort right? Well, no, it isn't. What the hell does Voldemort have to laugh about? Elder Wand not working? Harry still alive? Death Eaters leaving him? His power weakening? Oh yes, very reasonable for him to be laughing. What about Harry? He's just made a fool out of Voldemort and is about to win. More brilliance and PURPOSE behind everything.
Now to the final courtyard scene. Harry is still buying time for Nagini's death, but he can't wait any longer. The two spells collide in a great, final scene.
The bodies, the ruins, the slowly rising sunset. What's not to love? Neville comes to the rescue with the sword of gryffindor, giving the overall feeling: "HOLY FUCK THIS IS IT THIS IS IT FUCK FUCK FUCK FUCK FUUUUUUUUUUUCK!!!!!!"
I never questioned the decision to make Voldemort's eyes blue back in GOF for emotion reasons. I didn't really see any reason to complain, so I thought, whatever. Now I praise that decision. Look at the watery, emotional eyes of Voldemort right there. You know he's hurt and he's just plain shocked. It's truly fantastic.
Cue the epic score by Mr. Desplat and we go back to one final spell collision. This time Voldemort dies and slowly floats away. There's a lot of hate for this scene, but the "its all for 3D" is completely rubbish.
The film hints at Voldemort's decaying body plenty of times. He inspects his flaking arms TWICE, when the diadem is destroyed and then in the boathouse. Also, in the forest, you can see (other than his neck rolls) that his skin is flaking. It builds up with hints and foreshadowing.
People will complain he should die like a human. Why does that symbolism actually matter so much? Another type of symbolism, a devil-like, unhuman kind, could be used. He twisted himself so much with dark magic, went beyond the realm of the normal human that he no longer was one, so he did not die like one. I really don't see why that simple shot is done PURELY for 3D. I doubt they're sitting around spitballing ideas to say: "okay, what works best for 3D?" I mean there are legitimate reasons behind them, the fact that it might be very jarring for Voldemort to just die and fall immediately. They tried it, as we all know now, and probably saw something that didn't work. Lily's theme with Voldemort floating away in front of a demolished Hogwarts with the sunrise? That shot is beauty at it's finest my friend.
So there you have it. There's a purpose to everything done in the battle and it's all done beautifully. I'd love to here legitimate reasons to those who think otherwise, I'm open to debate.